I've made pizza before, but usually it's just a plain white crust. So after reading a few recipes, I deciphered this recipe!
Pizza Crust Recipe
4 Cups flour
1 1/2 cup Soy Milk
3/4 cup Olive Oil
5 tbsp Baking Power
Thyme
Salt
Italian Seasoning
*Mix all dry ingredients together.
*Slowly add soy milk and olive oil until desired consistancy.
*Knead for about 5 minutes and let rest for 10 minutes.
This dough smells and feels WONDERFUL! Like silk!
I separated the dough into two even amounts and let rest. What I didn't do was cook the crust first. I advise you to do just that. Roll or spread out dough onto pans, and cook at 350 for about 15 to 20 minutes, until it starts to brown.
*I cooked the pizza dough with toppings all at the same time, and it didn't have that 'crunch' I was looking for.
Now for the toppings - this is TOTALLY up to you! I chose to not have a sauce and to not have meat.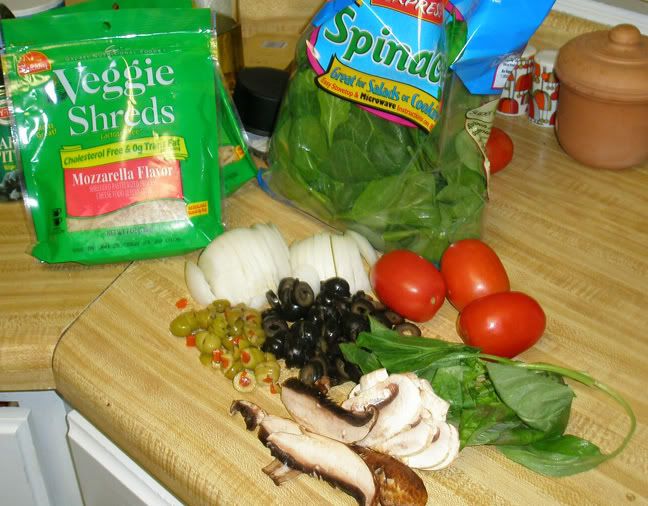 The dough was a mix between tasting like foccacia bread with the consistency of shortbread. It was DELISH!

ENJOY!