**All pics are from my cellphone since Mr. Moody had my camera in Calli**
The original recipe came from Dan at
www.thefoodinmybeard.com
. It looked SO yummie on his blog that I had to try it! I asked Dan if it was alright that I repost his recipe, to which he totally agreed. Go to his blog and get his recipe and look all over his blog....he's AWESOME!
Now, my plan was to follow Dan's recipe to a tee....but if anyone knows me, knows that I have a HARD time doing just that. So this is my version of Asparagus Soup.
Ingredients
Potatoes
Asparagus
Onion
Olive Oil
Garlic
Lemon Juice
Salt
Pepper
Chicken Broth
Whipping Cream
Thyme
Italian Seasoning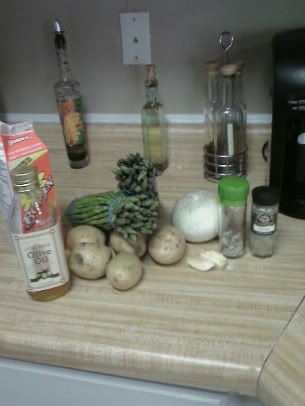 Boil your chicken broth with the hard stalks of the asparagus to get the flavor out of them then discard.
Cook chopped onions in olive oil with salt and pepper. Then add chopped potatoes.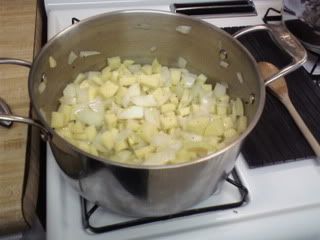 Add asparagus, garlic, seasonings and cook until all are tender.
Add the chicken broth and add whipping cream to your taste.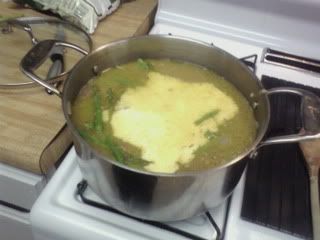 Bring to a boil.
Take off heat and scoop into a blender. ONLY half fill the blender, it that. I scalded my arm because I filled it too much, it spewed out all over!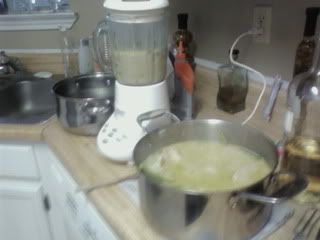 Blend until totally smooth and return to the pot. I added more cream and seasoned to taste.
When I put the soup in the bowls, I carefully spooned a little whipping cream and swirled it with a toothpick. Then did some olive oil around the bowl.....just to make it look pretty.