Anyone who knows us...knows that WE LOVE SUSHI!
I was facebooking it today and a friend mentioned lunch, our lunch schedules are different so meeting was out....but I kidded and told him, "Go get me some sushi!"
He ended up telling me about Ichibon Sushi. So off I went!
From the outside, it looks like any other 'strip center' place. Upon entering you immediately see they are set up for Japanese Grilling with the grill top in the tables to your right, sushi bar in the rear and regular table setting to your left. The decor is very nice, Asian and not overdone....which I always notice at places.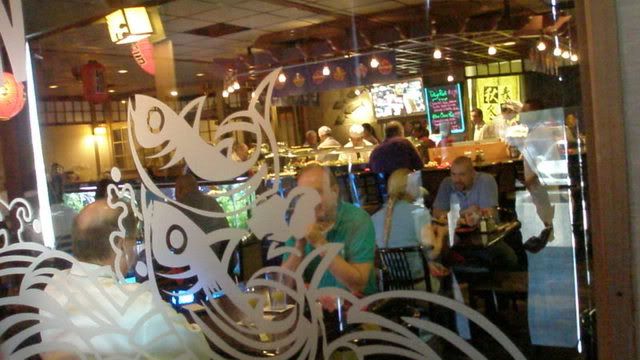 So I ordered the lunch special for the day....4 pieces of sushi, one hand roll, spicy tuna roll, soup or salad for $9.95.
Okay...I bite.
The wait was not long for my order and I rushed back to the office to dive in. Overall, the sushi was very fresh! The portions were large and the tuna in the hand roll was abundant! But they forgot my soup or salad. :(
So, I was pleased with the sushi, not so much that they forgot a portion of my order. And did I mention the person working the front (host)? To say the least, he reminded me of Jim Bruer in Halfbaked.....in looks and personality, I could have done with out that. Hehehe...
I'd say on my first visit I'd give Ichibon Sushi & Japanese Grill an 8!
**UPDATE**
No, they did not forget my soup and salad...it's not available on to-go orders