That's right. EffOff.
How can something named EffOff
NOT
be awesome?
A friend of mine posted a link to purchase face wash hand made one cup at a time by a friend of hers. I couldn't resist a peek. Click
HERE
to see the products and order yours!
Plain and simple - this is what you get.
Effoff is a simple yet revolutionary face wash, mask, and scrub all in one. All natural, handmade one cup at a time, and filled with mushy love every day.
Ingredients:
Powdered sea salt
Powdered oatmeal
Klamath lake blue green algae
Spirulina Essential oils of: Frankincense (a leading oil in promoting tight youthful skin) Rosemary Lavender
It's lovingly made by Courtney Henslee and shipped out to you after you place your order! I received mine in a couple of days and was SO excited to open it and use it!
It came wrapped up in
cute fabric...that I will totally
make into a sachet pouch!
Here are my two orders.
I put mine in old sugar shakers. Shake into my
palm and then water for a paste!
Voila~
Start with warm water on your skin to open
your pours...
This is my face. There's no make up on this
face. There are blemishes and zits on this
face. EffOff will make this
face awesome.
Shake about a teaspoon...
Add water for a paste and scrub
your face!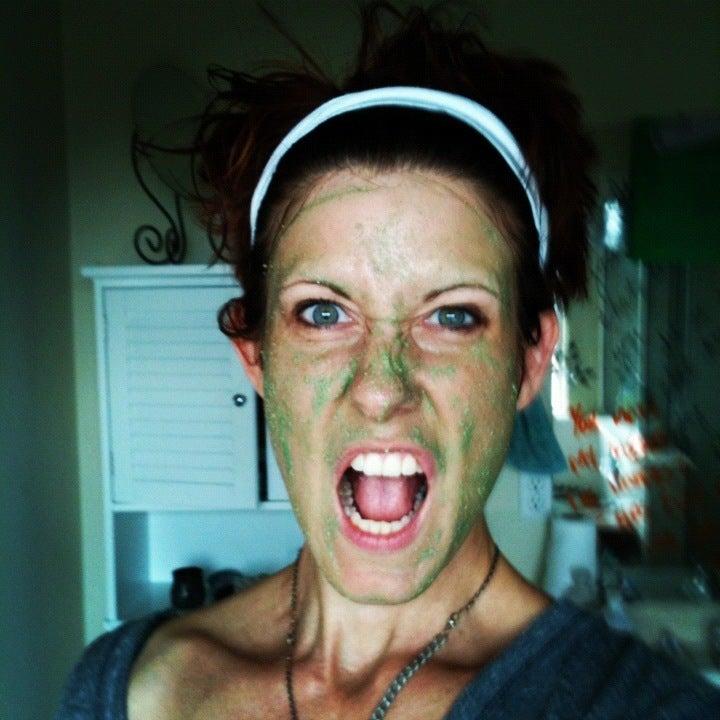 This is Courtney's cute face in the process....it's
way much cuter and awesome than my
face.
Effoff, Hand lotion and hand soap in
my daughters' bathroom.
I suggest you go to Courtney's site -
Eff Off
- and see all her products, ingredients and
deals. She even has user's comments and everyone is
satisfied!
It's natural. It's home made. I'm all for both of those things. I'm all for small biz.
Go and do it. Order yours today!