I've not written anything about the Jodi Arias trial yet, so I decided I'd do a little today. I am glued to the television, like I am most high profile trials. So ....here are my two cents.
Unless you live under a rock (or not a court television watching fool like myself) you've heard of the Jodi Arias Murder Trial. I can't look away. This woman is a nutbar and deserves the death penalty.
In June of 2008, Arias went to the home of on again off again bed buddy, Travis Alexander, and murdered him. Stabbed him 29 times. Slit his throat from ear to ear, almost decapitating him. Shot him in the head. Left him dead in the shower and his body was found a week later by friends. Jodi's name was the first to come up as a suspect.
She lied. Several times. Firstly saying she knew nothing about it. Saying she couldn't ever hurt Travis. Saying that if Travis was here he'd tell everyone she didn't kill him. Wait...then she said ninjas broke into his house, she hid and they killed Travis.
Ninjas.
She has changed her stories several times. Then finally admitted it was her who killed Travis. In self defense.
I don't think she was betting on a camera being found (in her washing machine) and the deleted photos being retrieved. She took nude photos of Travis in the shower. He took photos of her, nude. The photos are time stamped. Within two minutes of the last one, Travis is dead. There's even an 'accidental' photo taken where you can see a naked, bloody and dead Travis in the background and Jodi's foot and pant leg in the foreground.
This is Travis in the shower. Arias took
the photo at 5:29pm
Now, at 5:39, we know Travis is alive. But just THREE minutes later, we know he's dead...or dying.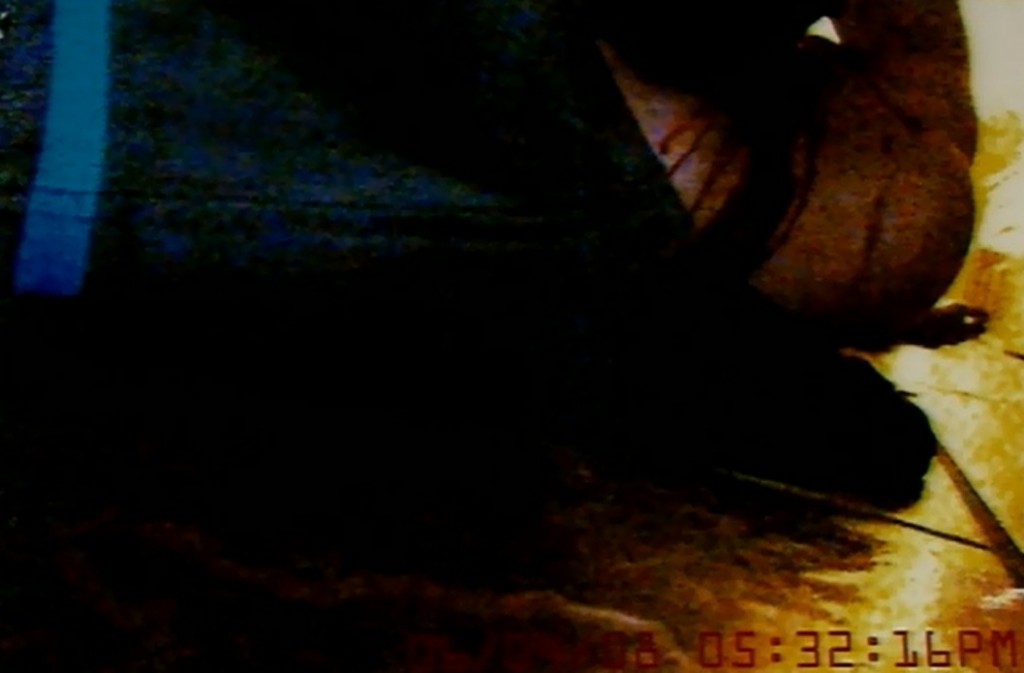 This is a bloody dead, or dying, Travis.
This is a re-creation of the above photo to show
you the staging.
In three minutes, Travis is bloodied, out of the shower and obviously had his throat slit.
A week later, he's found dead in the shower by
his friends.
Pay attention...in three minutes Arias stabbed and killed Travis, maliciously. Savagely.
Regardless of how small Jodi Arias is, she's already confessed (after multiple stories) that she did it. She is capable of doing this. But remember, the final story from Arias is that she did it in self defense. So we are to believe that in three minutes Travis attacked her naked from the shower and she killed him.
In three minutes.
Arias, in my opinion, was obsessed with Travis. Travis, by her own admission, never took their 'relationship' public. Text messages and taped phone calls prove it was all about sex. He called her porn star. She liked it...on the tapes. She said she liked him to make her feel dirty. She indulged him in his fantasies. She participated in, if not initiated, phone sex with Travis. He didn't love her. She was a booty call, and she obliged.
At the time of the murder, Arias lived roughly 300 miles from Travis. Yet she staged a robbery at her grandparent's house and stole a gun, brought a knife and drove to Travis' house. She had sex with him, participated in nude photos with him. Then killed him.
In court, Arias says that Travis abused her, beat her.So much so that during a beating he kicked her and broke her finger. She held her finger up in court to prove it's broken. She claims it was broken in 2007.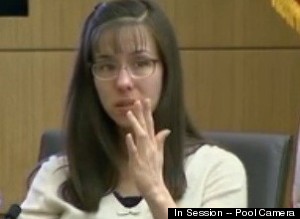 However, a witness says he saw her with that finger freshly bandaged after the murder. I'm no scientist, but to me that says her finger was injured while she killed him that night in June of 2008.
In court, Jodi also testified that Travis was a pedophile. She says he liked little boys, going as far as to say that she walked in on him masturbating to a lot of photos of little boys in underwear on his bed. When investigators went through Travis' cell phone and computers, not one ounce of pedophilia was found. So, are we to believe that Travis only printed out photos, or ripped the little boy underwear section of the Sears Catalog for his pleasuring sessions?
Jodi says Travis never took their relationship public. Really? But Jodi had sex with him all the time....even indulging in fantasies with him. Ugh...it was booty calls, Jodi. That's it. You took to to the psycho level.
Jodi stated that Travis got her little boy Spiderman underwear to wear as well. In her eyes, that proves he liked little boys. Yet she doesn't have the underwear now. But, didn't the sexy Cameron Diaz do a scene in Charlie's Angels with the same little boy underwear? Certainly, if Travis got Arias these underwear it possibly could mean he was thinking of this scene...right?
In the phone sex tape the defense played for the court, there isn't one iota of pedophilia shown. Not one mention of boys. Travis did state that Arias' orgasm sounded like a 12 year old girl. That has to prove that he's a pedophile. RIGHT?! I mean the fact that tons of porn with schoolgirl outfits or fantasy porn scenes with women dressed and acting like 12 year olds....means something. Right? Don't get me wrong, I think it's gross that a lot of men want to have sex with underaged girls, but most of these men are functioning members of society. Many of them never actually do have sex with underaged girls, it's just fantasy.
Jodi Arias cries and boo hoo's about how Travis made her feel...like a piece of used toilet paper. However, in the phone sex tape we hear Arias giggle, laugh, encourage and be aggressive herself with Travis sexually. Not battered, not scared. That phone call helped the prosecution more than the defense.
Listen for yourself....WARNING...it is very explicit.
Jodi Arias killed Travis Alexander, admittedly. In court, she kills him again with shame and heresay. It's pathetic! She is an obsessed stalker who was not happy that she couldn't have Travis. Travis wouldn't claim her as a girlfriend in public because he didn't see her that way. He may have used her for sex, I'm sure he made that clear, but he wasn't abusive to her...he didn't deserve to be killed. A douche? Possibly. Not an attacker.
As of today, she is still be questioned by the defense. I cannot wait for the prosecution to cross.
Tell me, Jodi, was Travis begging when you killed him? Did he beg for you to stop after the first stab? Did he plead for you to stop after the second? Did he ask you why you were doing this after the third? Before you slit his throat, did he make eye contact with you?
I won't get an answer from you, and neither will those who loved Travis. You are incapable of telling the truth.